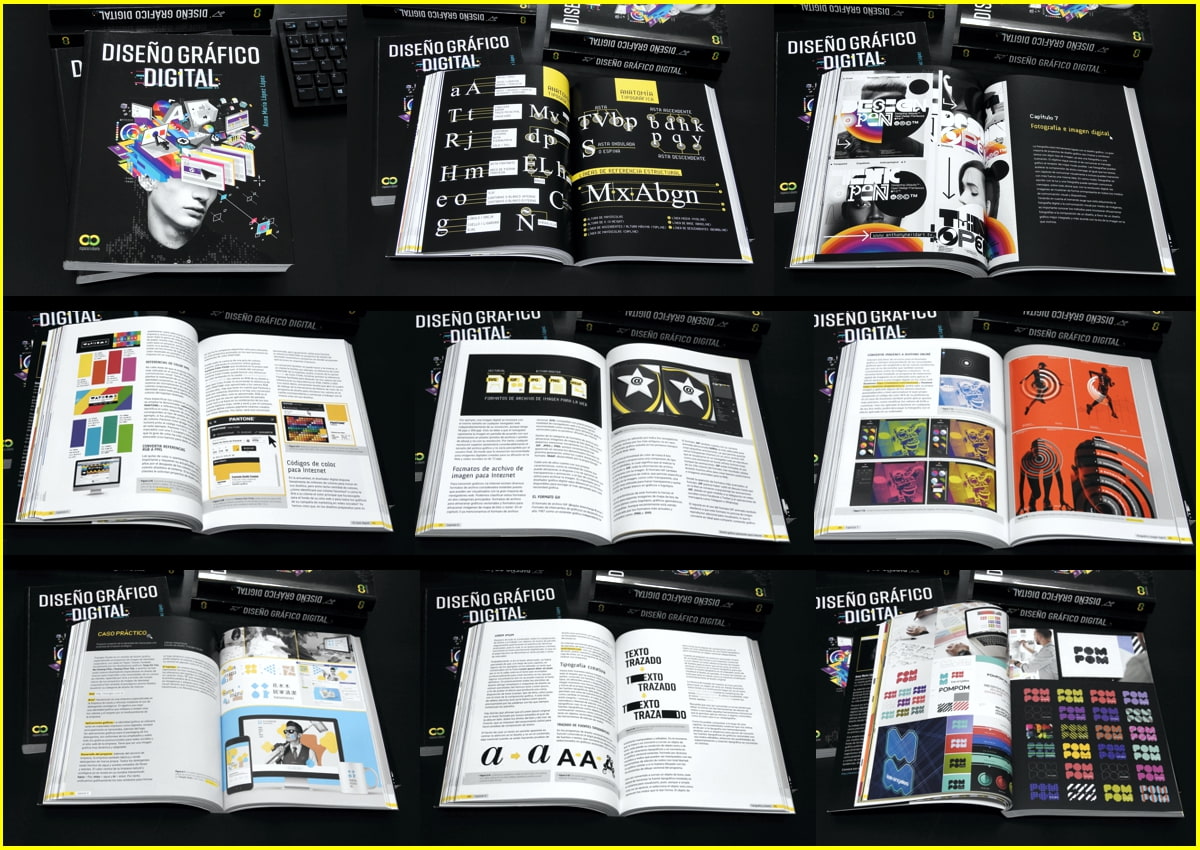 DIGITAL GRAPHIC DESIGN is a book for those wanting to embark on a career in graphic design that includes the basics of traditional graphic design such as conceptualization techniques, briefing, typographic anatomy or basic color theory, along with the techniques and terminology specific to the new digital graphic design.
Node, pixel, vectorization, SVG, color modes, aspect ratio, OpenType, WOFF, HEX codes, responsive logos, compression, image optimization for the Web and social networks, etc, are terms that are already part of the daily lexicon of the digital graphic designer. Digital Graphic Design is an essential book to prepare the new generation of digital graphic designers and for all those traditional graphic designers who want to make the leap from paper to screen and to a graphic design with a truly global reach.
In addition to its didactic content,the Digital Graphic Design book includes interviews with renowned graphic designers and a large number of examples of applied digital graphic design, created by award-winning graphic design studios and professional graphic designers from the five continents. A source of graphic inspiration.
Book Title: Diseño Gráfico Digital
Author : Anna Maria Lopez Lopez
Publisher : Anaya Multimedia Editorial
Paperback : 320 pages
ISBN-13 : 978-8441541290
ISBN-10 : 8441541299
Language : Spanish
Topics : Visual communication,creative graphic design process, history of digital design, computer graphic design, vector graphics, digital colour, typography and design for the screen, creating the digital graphic identity, responsive logo design, photo and digital image, graphic design optimization for social media and digital marketing, top on-line resources for graphic designers, etc.
Category : Graphic design wih digital media learning book.
Texbook in design schools : Book part of the bibliography and the syllabus of the graphic design subject at universities and official design schools in Spain and LATAM
AMAZON.com link > Book in Amazon Global
Official book website > www.disenograficodigital.com