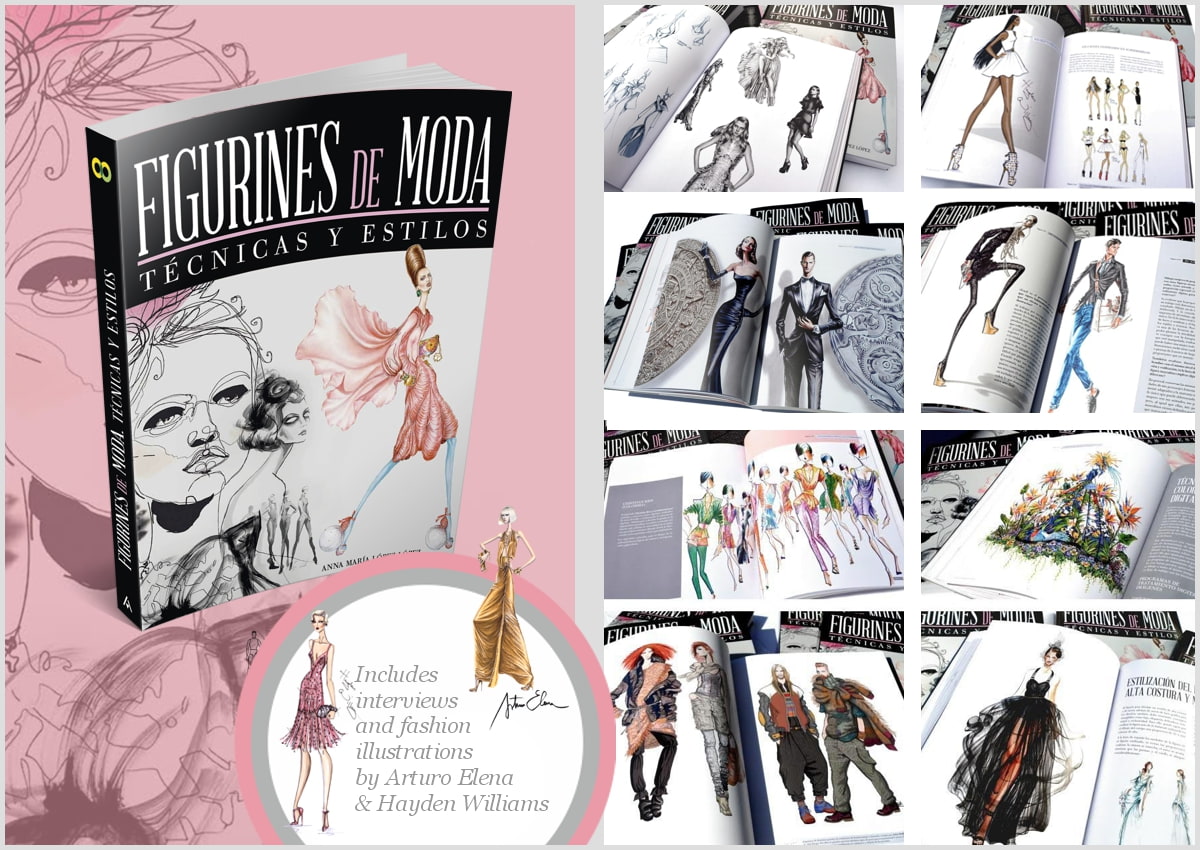 The printed book titled FIGURINES de MODA Tecnicas y Estilos ( FASHION FIGURES Techniques and Styles) is a book for aspiring fashion designers and fashion illustration lovers that is visual, inspirational, and colorful. With 272 full colour pages, features a curated selection of more than 250 of the best fashion sketches, croquis and fashion figure drawings created by international contemporary fashion designers and illustrators.
The dimensions of the book, are perfect for enjoying all the fashion sketches details, edge-to-edge intense full-color illustrations, and eye-pleasing page layout, elevate this educational fashion book to a beautiful coffee table book. The book has already reached it´s second edition.
It also includes fully illustrated interviews to professional fashion illustrators like Arturo Elena, Hayden Williams, Danielle Meder or JAA Design ( fashion trend illustration studio for WGSN trend forecasting agency).
Book Title: Figurines de Moda, Técnicas y Estilos
Author : Anna Maria Lopez Lopez
Publisher : Anaya Multimedia Editorial
Paperback : 272 pages
ISBN-13 : 978-8441534643
ISBN-10 : 8441534640
Language : Spanish
Topics : Fashion illustration, styles, illustration techniques, fashion illustrators, figurinist, drawing fashion figures, Arturo Elena, Hayden Williams, famous fashion illustrators, best fashion illustrations, etc.
Category : Fashion illustration book
Texbook in design schools : Book part of the bibliography and the syllabus of the fashion illustration subject at universities and official fashion schools in Spain and LATAM
AMAZON.com link > Book in Amazon Global
Official book website > www.figurinesdemoda.com